The 81" PBY-5A Catalina is the most popular of my seaplanes. It is scale except for a 10% increase in bow length for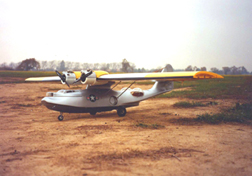 good water handling and a 10% increase in vertical fin height for better lateral stability in flight.
The wing has a flat bottom high lift airfoil which provides good landing characteristics. The semi-symmetrical air foil of the original airplane necessitates a high airspeed and makes landing very difficult, hence the change. It has a wide speed range making is safe to fly as well as the ability to fly slow at a realistic speed. It will do loops and rolls and will climb moderately on one engine (using 2 Fox .40s). I have maintained altitude and made go arounds on 1 engine with ease.
This plane is a great twin engine trainer. With the engines mounted so closely together it does not snap roll like many other twins with one engine out. It slides sideways on one engine and some rudder and aileron will turn it against the dead engine.
It comes with a 30 page step by step construction manual with full size drawings of the parts that are not already made in the kit. The wing is 1 piece which attaches to the fuselage pylon with two nylon wing bolts . The 4 lift struts are functional and attach to the fusleage and wing with #4 sheetmetal screws. It requires a 5 channel radio if retractable floats are used and requires 6 servos because there is a servo for each engine. The front of the fuselage has a hatch which is the vacuum formed cockpit and nose gunner turret all formed in one piece with the panel lines for the 26 windows that are embossed in the cockpit-turret. Cockpit, gunner turret and waist blisters are transparent acetate. The kit comes with fuselage halves joined and includes foam wing cores, all wood needed. Cowls and nacelles are vacuum formed of high impact 1/16 " styrene.
1--3"X 1/8" rod for rudder shaft
1--22ga. X 3" X 2" sheet metal for the water rudder
1--3" X 1/8" brass tube for water rudder bushing
1--1" X 1" X 3/4" balsa block for the water rudder stand
2--3" x 3/8" x 17ga. sheetmetal plates for the float strut mounts
2--3-1/2" x 3-1/2" x 1/4" ply plates for retract mount plates
2--3" x 1-1/2" x 1/4" ply for wing T nut hold down plates
4--4-1/8" x 2-1/2" x 1/8" ply tank well sides
1--7" x 1/2" x 3/16" balsa for the rudder top
1--9" x 1/4" dowel for cockpit pin and retract plate anchors
1--4" x 1" x 3/8" pine for motor servo mounting blocks
1--3" x 1" x 5/8" balsa for rudder center section
1--Piece of fiberglass cloth for stiffening up the balsa under the wing where the pylon mounts to the wing
1--10" x 3/32" copper clad wire for lower rudder hinge pin and elevator coupler
1--7" x 2-1/2" x 3/4" balsa for stab center section
1--8-3/4" x 1-1/2" x 3/4" rudder leading edge
1--9" x 2 x 1/2" balsa for stab tips
1--25" x 3/8" square oak for motor mount doublers and cowl mount beams
1--20" x 3/8" sq. pine for fuselage servo tray mount beams, 3 control horn mount cubes, 2 aileron servo mount blocks, 1 fin hinge mount block, 1 lower rudder hinge pin block
1--36" x 1" x 1/2" balsa wing center section leading edge
1--5" x 1" dowel for wing strut mounts
1--7/8" x 24" x 1/4" ply leading edge-firewall spar
1--48" x 1-11/16 x 1/8" ply main spar
1--36" x 1/8" dowel for wing lift strut fillers
1--15" x 3/4" x 3/8" oak for 4 wing strut mount blocks in fuse. and 14 nacelle mount blocks
1--36" x 1/16" copper clad steel wire for wing struts
1--24" x 2" x 2" balsa for wing tip floats
1--36" x 1" x 3/8" balsa wing center section trailing edge
2--24" x 1" x 3/8" balsa wing end section trailing edge
1--24" x 1/2" x 3/16" balsa stabilizer trailing edge
1--24" x 3/8" x 5/16" balsa stabilizer leading edge
2--24" x 1" x 1/2" balsa wing end section leading edge
1--24" x 1/2" x 1/8" ply stab spar
1--24" x 8-1/2" x 1/8" ply for ply parts on sheets
1--1/8" x 3" x 16" balsa sheet for cockpit construction
14-1/16" x 4" x 36" balsa sheet for wing and stab sheeting
1--4" X 1/4" X 9" balsa sheet for float strut doors.
8--3/8"X 1-1/2" pine triangle tank well side gussets