The elevator, stab and rudders are 1/4" solid balsa. The wing root on the fuselage has the wing airfoil and fillet on the side of it and the nacelles have the wing bottom airfoil in the wing saddle so that alignment of the fuselage and nacelles is simple to accomplish. The fuselage and nacelles have scale panel lines and the cockpit frame is embossed onto the fuselage so that cutting the windows out with a mototool leaves the frames and the bubble is then glued in under the frames. The gear doors are scribed on the fuselage and nacelles so that they can be cutout easily.
Some hardware is not furnished such as motor mounts, push rods and tanks. It requires 11 servos. 2 rudder, 1 elevator, 2 flaps, 2 ailerons, 2 motors, 1 retracts, 1 nose wheel steering. The kit includes servo extension wire and heat shrink tubing for these servos.
The elevator, rudder and motor servos are mounted in the Prestone radiators. The flap servos and mounted just behind the wing in the nacelles and the retract and nose wheel steering servos are mounted in the fuselage. The aileron servos are mounted in the wing ahead of the ailerons. The engines can be mounted side ways and the head of a 2 stroke motor will stick out 1/4² or they can be mounted inverted and totally enclosed with the heads getting plenty of cooling from the cowl intakes.
All wood is supplied including wing skin balsa. Accessories needed that are not supplied with the kit are Engines,motormounts, retractable landing gear, wheels Tanks Push rods with clevices Radio Retracts Wheels Wheel collars Paint Gear door hinges Fuel tubing Motor mounts and bolts for same Recommended hardware, Battery backup system, On board glow.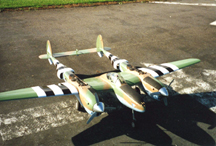 This is absolutely the finest kit ever offered of the P-38 Lightening and the price is very reasonable for a kit of this quality. If you ever wanted a P-38 here is a beautiful fast building scale model with a fun fly RC airfoil.
BALSA
1
1 7 X 4 X 1/4 FOR FUSELAGE, RADIO HATCH BRACES
2
1 12 X 3 X 1/8 FOR TURTLE DECK FLANGE
3
2 24 X 1 X 1/2 LEADING EDGE
4
1 4 X 1 X 1/2 LEADING EDGE
5
1 24 x 1-3/8 x 1/2 LEADING EDGE
6
2 36 X 1 X 3/8 TRAILING EDGE
7
1 4 x 1 x 3/8 TRAILING EDGE
8
10 36 X 4 X 1/16 FOR WING SKINS, AILERON AND FLAP EDGING AND WING JOINT
9
2 36 X 1 X 1/8 FOR JOINT FACING BETWEEN AILERONS, FLAPS AND WING
10
1 36 X 4 X 1/4 FOR STABILIZER
11
1 36 X 2 X 1/4 FOR STABILIZER
12
2 1/4 BALSA RUDDERS
13
1 12 X 3 X 1 FOR WING TIPS
14
1 3 X 1-3/8 X 1/2 LE CENTER SECTION
15
2 1/4 BALSA WING SADDLE DOUBLER
16
5 1/4 X 3/8 X 7 FOR GEAR DOOR BRACES
PLYWOOD
17
1 NOSE GEAR BULKHEAD
18
1 NOSE GEAR BULKHEAD 1/8X2X2 T NUT SPACER
19
1 1/8 AIR VALVE MOUNT PLATE
20
2 ENGINE FIREWALLS
21
2 FOREWARD NACELLE BULKHEADS
22
2 REAR NACELLE BULKHEADS
23
2 RETRACTABLE LANDING GEAR MOUNTING PLATES
24
2 7 X 1 X 1/4 LANDING GEAR PLATE REINFORCEMENT PLATE
25
2 1/8 ELEVATOR SERVO STANDS
26
4 1/8 WING BOLT TOP STIFFENER PLATES
27
2 1/8 SPAR JOINT DOUBLER
28
2 1/8 X 3/8 X 12 FOR DOOR FLANGES
29
2 1/8 MAIN SPARS
30
2 1/8 X 2-1/2 X 1-3/4 AILERON SERVO MOUNT PLATE
31
1 1/8 X 1-1/2 X 2 NOSE GEAR STEERING PUSHROD BRACE
32
1 1/8 TRIANGLE GUSSET FOR NOSE GEAR BRACE
33
34
HARDWOOD
35
2 1 X 3/4 X 3/8 PINE NOSE GEAR SERVO MOUNT BLOCKS
36
2 1 X 3/4 X 3/8 PINE RETRACT SERVO MOUNT BLOCKS
37
4 1 X 3/4 X 3/8 PINE MOTOR SERVO MOUNT BLOCKS
38
2 3/8 X 3/8 X 1-1/2 ELEVATOR SERVO MOUNT BEAMS
39
2 MAIN SPARS
40
4 3/4 X 3/4 X 1/2 PINE AILERON SERVO MOUNT BLOCKS
41
8 PINE TRIANGLE GUSSETS FOR RETRACT PLATE REINFORCEMENT BEAM
42
18 3/4 X 3/8 X 3/8 PINE BLOCKS FOR COWL MOUNTS
43
4 PINE BLOCKS FOR WING HOLD DOWN BLIND NUTS
44
4 3/4 X 3/8 X 1/2 PINE BLOCKS FOR TANK DOWEL MOUNT
45
4 3/4 X 3/8 X 1 PINE BLOCKS FOR FLAP SERVO MOUNTS DOWEL
46
4 1/4 X 2 FOR WING ALIGN PINS
47
2 1/4 X 7 FOR FUEL TANK RETAINER
48
2 2 X 1 FOR FILLER BETWEEN MAIN SPAR AND ALUMINUM SPAR TUBE
49
2 2-2/3 X 3/4 DIA. FOR FILLER BETWEEN MAIN SPAR AND ALUMINUM SPAR TUBE
50
PLASTIC PARTS 2 TURTLE DECKS 2 TURBO CHARGERS 8 AIR INTAKES 2 ELEVATOR COUNTER WEIGHTS AND 1 COCKPIT BUBBLE HARDWARE
51
20 6-32 X 1 MACHINE SCREWS (MS) FOR MOTOR MOUNTS AND LANDING GEAR UNITS
52
4 2-56 X 1 MS AND NUTS FOR AILERON MOUNTS
53
2 3/8 X 1-1/4 ALUMINUM STRUTS FOR ELEVATOR COUNTERWEIGHT STAND
54
4 VAC. FORMED COUNTERWEIGHT HALVES
55
3 NYLON CONTROL HORNS FOR ELEVATOR AND RUDDERS
56
2 ALUMINUM AILERON CONTROL HORNS
57
2 1/8 ID X 1-3/8 BRASS TUBE FOR FLAP CONTROL HORN
58
2 1/8 ID X 4 BRASS TUBE FOR FLAP CONTROL HORN
59
2 1/8 X 9 STEEL ROD FOR FLAP CONTROL HORN
60
2 1/8 X 3-1/4 STEEL ROD FOR FLAP CONTROL HORN
61
2 3/8 X 1/2 SHEET METAL FUEL TANK DOWEL RETAINER
62
4 ALUMINUM SPAR TUBES
63
2 4-40 X 1/2 ALLEN HEAD MS FOR WING RETAINING BOLT
64
14 HINGES
65
26 #2 X 3/8 COWL SCREWS , ELEVATOR SERVO HATCH AND BATTERY HATCH
66
11 #4 X 3/8 SHEET METAL SCREWS FOR MOTOR SERVO BLOCKS,RETRACT VALVE PLATE TANK DOWEL PLATE RETAINER, AND FLAP SERVO BLOCKS
67
36 2-56 X 1/4 MS FOR GEAR DOOR HINGES AND RADIO HATCH HINGES
68
36 INCHES OF HEAT SHRINK TUBING
69
13 FEET OF SERVO EXTENSION WIRE
70
2 FEET OF PUSH ROD SOLDER WRAP WIRE FOR ELEV. AIL. AND FLAPS
71
1 16" X 1/8 WIRE FOR ELEVATOR PUSHROD
72
1 2" X 1/16 WIRE FOR Z BEND END OF ELEVATOR PUSH ROD
73
5 2-56 X 1 MS TO SOLDER ONTO THE HORN END OF ELEVATOR,FLAP AND AIL. PUSH RODS
74
5 CLEVICES FOR ELEVATOR , FLAPS AND AILERONS
75
2 2-1/2 X 1/16 WIRE FOR AILERON PUSH RODS
76
2 1" X 3/8 SHEET METAL HORNS FOR FLAP CONTROL HORN ASSEMBLY
77
2 4-1/2 X 1/16 WIRE FOR FLAP PUSH RODS
78
1 1" X 3/16 SQUARE BRASS TUBE FOR FLAP PLUG IN WING FITTING
79
12 ORTHODONTIA RUBBERS FOR GEAR DOOR OPENING
80
24 6-32 BLIND NUTS FOR WING HOLD DOWN, MOTOR MOUNTS, MAIN AND NOSE GEAR UNITS
81
4 6-32 NUTS FOR A JAM NUT AGAINST THE WING HOLD DOWN BLIND NUTS
82
2 9/32 X 1/2 BRASS TUBE FOR TURBO INTAKE
83
4 6-32 X 4 WING HOLD DOWN MACHINE SCREWS
84
1 CONSTRUCTION MANUAL
85
1 7" 12 GA. COPPER WIRE FOR FOAM MELTING ELECTRODE
86
1 18" NYLON LINE FOR GEAR DOOR CLOSERS AND 1 PIECE OF FIBERGLASS MAT