F/A - 18 HORNET

My F-18 Hornet is a pusher that performs fantasticly. Top speed is about 90 mph. It is a fast and groovy flyer, yet it slows down to a nose

high walk when landing. It is fully aerobatic, capable of loops, rolls and inverted flight. This is a fun fly airplane that stops traffic.
The foam core plug in wings have the spar slots, servo wells and servo wire extension wire grooves already cut into the wing for you. The aircraft 5 ply retract plates are already installed for the pneumatic style retracts such as Spring Air, Rhom Airs and Robart. The tail cone (turkey feathers) is fiberglass and goes over the engine like a cowl would on a puller type aircraft. The inlets are vac. formed polystyrene and the cockpit bubble is formed of tough PETG. The fire wall is precut from 1/4" aircraft ply and has 2 large holes in it to allow the air that comes in from the inlets to flow over the engine.
The kit comes with a lot of hardware like the nose gear tandem wheel "T" to solder onto your landing gear strut. It will fly off of grass with ease and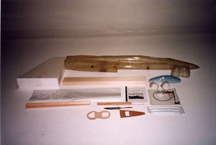 easily accepts a tuned pipe muffler inside the fuselage with an elbow on the end to send the exhaust out the bottom between the inlets.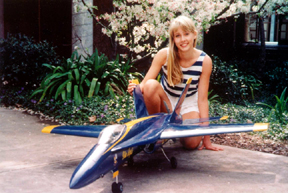 A 14 oz. tank can be used behind the firewall or the tank can be mounted on the C. G. and a pump can be used. If the tank is mounted behind the engine approximately 7 oz. of lead will be needed in the nose to balance the aircraft.
Each aileron uses a servo mounted in the wing just foreword of the ailerons. Wire and heat shrink tubing is supplied to make aileron servo extensions and they plug in where the wing joins the fuselage. An Ace RC servo extension with a filter trap is used to go from the receiver to the aileron plugs but we have found them not to be essential. The wing is cut with ample wash-out to make very stable straight ahead soft stalls.
Our prototypes typically do not used rudders. This makes the plane simple, however, we have found that they are needed only in cross wind landings and doing knife edges. Some pilots have built their planes with rudders and they reported that they were not very effective. The fiberglass fuselage is glass smooth and only needs to be scuff sanded and primered to be ready for any paint that you might want to use. The wings can be monokoted or glassed with .60 oz. cloth. The inlets are fiberglass and the sidewinder rails are vacuum formed.
Wing span
54"
Fuselage length
68"
Weight
10 lbs
Vertical fin height
10-1/4"
Wing area
900 sq. in
Radio

5 channel

2 servos for the ailerons
1 servo for the nose wheel and rudders
1 servo for the retractabel landing gear
1 servo for the elevator
1 servo for the engine throttle
.