CANADAIR CL-215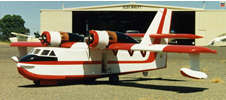 The Canadair is a Canadian built fire bomber first produced in 1967. It is used around the world to fight fires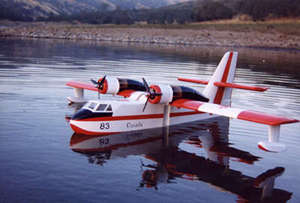 which was its principle intended use.
This model of the Canadair is a scale rendition of the full size aircraft. The plans were drawn from factory supplied drawings. The only deviation from exact scale is the air foil which on the full size aircraft is undercambered. This model uses a flat bottom airfoil with single slot type flaps like the full size CL-215.
The fuselage is built of polyester fiberglass using a combination of 1 oz mat and 8 oz. cloth. This gives it light weight along with good ridigity on the bottom of the hull for water landings. Water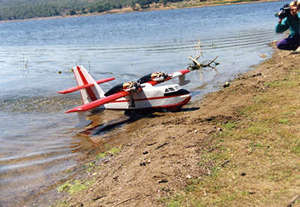 landings are akin to a belly landing on the ground so a stiff bottom in the front end is necessary. The wing, horizontal stab, elevator, vertical stab and rudder construction is 1/16" balsa covered foam cores. The foam cores come precut and slotted for the main spars.
All wood needed to build the aircraft comes with the kit. The cowls and engine nacelles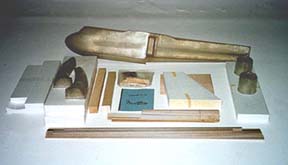 are fiberglass. Also included is the metal for the water rudder and shaft. The floats, wing tips, stab tips & rudder tips are solid balsa and there are 2 wing spars. There is a leading edge 1/4" plywood spar that is hand sawn in the kit. This spar goes on the front of the wing foam and has 2 - 4" firewalls incorporated into it. There is also a wing main spar in the center of the wing that is made of 1/8" plywood. Two 10 oz. fuel tanks go in the nacelles immediately behind the leading edge spar and the engines are mounted to the firewalls using glass filled nylon motor mounts (not supplied with the kit). The plane flies very realistically and has a low stall speed with the flaps dowm. It even does well with the flaps up due to the high aspect ratio wing.
| | |
| --- | --- |
| Wing span | 81 inches |
| Length | 55 inches |
| Wing area | 891 square inches |
| Weight | 13.5 lbs. |
| Engines | Fox .40 2 cycle (OS Max does'nt have spair parts for their engines) |
| Radio | 6 channel |
| Flaps | Single slot type |
| Landing Gear | Scale in movement but not in mechanism. |